Discover more from Night After Night
Conspicuous consumer of music, live and recorded, in New York City and (sometimes) points beyond.
Over 1,000 subscribers
For the Record: Dec. 31, 2022.
22 for '22: recordings I returned to over and over this year, plus 10 archival releases and 10 records that rock.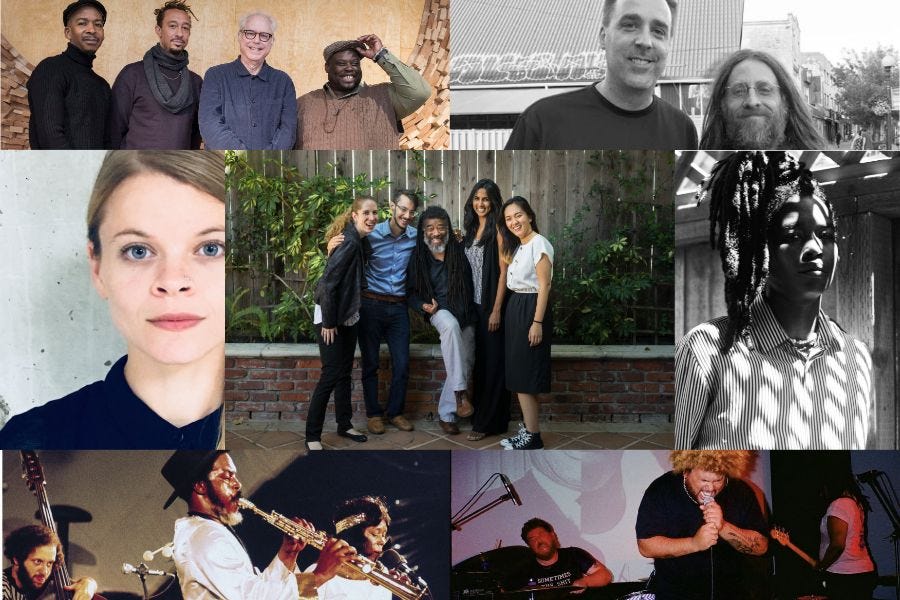 Lead in.
For the Record is a regular round-up of new and upcoming recordings of interest to the new-music community – contemporary classical music and jazz, electronic and electroacoustic music, and idioms for which no clever genre name has been coined – on CD, vinyl LP, cassette, digital-only formats… you name it.
This list of release dates is culled from press releases, Amazon, Bandcamp, and other  internet stores and sources, social-media posts, and online resources such as Discogs. Dates cited typically correspond to initial U.S. release, and are subject to change. (Links to Amazon, used when all else fails, do not imply endorsement.)
After publication, new listings are incorporated into For the Record: The Master List, a continuously updated resource exclusively accessible to paying Night After Night subscribers, found here.
These listings are not comprehensive—nor could they be! To submit a forthcoming recording for consideration, email information to nightafternight@icloud.com.
Please note that all opinions expressed herein are solely my own, and do not express the views or opinions of my employer.‌
---
22 for '22.
This is not a list of "The Best Albums of [year here]." No one could possibly hear everything released in any given 12-month span, and that's especially true for folks who listen outside the lines. Some very impressive and acclaimed albums are missing, I'm sure, because I didn't get around to them and won't claim otherwise.
But this is music that resonated with me most this year… recordings to which I returned over and over for uplift and transport, revelation and joy. (The list easily could have been longer, but one must exert some restraint.)
The link embedded in the label name accompanying each entry leads to the most user-friendly site available, Bandcamp or otherwise. I skipped embeds this year, because the page started to look unbearably cluttered.
I hope you'll find something you'll enjoy listening to.
Maya Bennardo - Four Strings - compositions by Kristofer Svensson and Eva-Maria Houben (kuyin)
Laura Cocks - field anatomies - compositions by David Bird, Bethany Younge, Jessie Cox, DM R, and Joan Arnau Pàmies (Carrier)
Sarah Davachi - Two Sisters (Late Music)
Simone Dinnerstein - Undersong - compositions by François Couperin, Robert Schumann, Erik Satie, and Philip Glass (Orange Mountain Music)
Bill Frisell - Four (Blue Note)
Bryn Harrison - A Coiled Form - Sarah Saviet (Another Timbre)
Andrew McIntosh - Little Jimmy - Yarn/Wire (Kairos)
Kali Malone - Living Torch (Portraits GRM)
Myra Melford's Fire and Water Quintet - For the Love of Fire and Water (RogueArt)
Moor Mother - Jazz Codes (Anti-)
Michael Oesterle - Quatuors - Quatuor Bozzini (Collection QB)
Kory Reeder - Codex Vivere - Apartment House (Another Timbre)
James Romig - The Complexity of Distance - Mike Scheidt (New World)
Vanessa Rossetto - The Actress (Erstwhile)
claire rousay - wouldn't have to hurt (Mended Dreams)
Rebecca Saunders - Skin - Christian Dierstein, Christian Dierstein, Rundfunk-Sinfonieorchester Berlin/Enno Poppe; Quatuor Diotima; Juliet Fraser, Klangforum Wien/Bas Wiegers (NMC)
Germaine Sijstermans - Betula - Antoine Beuger, Germaine Sijstermans, Rishin Singh, Johnny Chang, Fredrik Rasten, Leo Svirsky (Elsewhere)
Wadada Leo Smith - String Quartets Nos. 1-12 - RedKoral Quartet with Wadada Leo Smith, Alison Bjorkedal, Anthony Davis, Lynn Vartan, Stuart Fox, and Thomas Buckner (TUM)
Tyshawn Sorey - Mesmerism (Yeros7 Music)
Reinier van Houdt - drift nowhere past/the adventure of sleep (Elsewhere)
Sophia Subbayya Vastek - In Our Softening (self-released)
George Walker - Antifonys; Sinfonia No. 4 ("Strands"); Lilacs; Sinfonia No. 5 ("Visions") - Latonia Moore, Cleveland Orchestra/Franz Welser-Möst (Cleveland Orchestra)
---
10 reissues and archival releases
Albert Ayler - Revelations: The Complete ORTF Fondation Maeght Recordings (Elemental)
Derek Bailey - Domestic Jungle (Scatter Archive)
Peter Brötzmann, Milford Graves, William Parker - Historic Music Past Tense Future (Black Editions)
Alan Hovhaness - Opening a Window to Cosmic Love: Private Acetate Discs ca. 1946-55 - various artists (Canary)
Oksana Linde - Aquatic and Other Worlds (Buh)
John McGuire - Pulse Music (Unseen Worlds)
The Muffins - Baker's Dozen (Cuneiform)
William Parker - Universal Tonality (Centering)
Cecil Taylor -  The Complete, Legendary, Live Return Concert at The Town Hall NYC November 4, 1973 (Oblivion)
Cecil Taylor - Newport 1965 (HI_Q)
---
10 records that rock.
Artificial Brain - Artificial Brain (Profound Lore)
Chat Pile - God's Country (The Flenser)
Escuela Grind - Memory Theater (MNRK Heavy)
Goose - Dripfield (No Coincidence)
Porcupine Tree - Closure/Continuation (Music for Nations)
Reeking Aura - Blood and Bonemeal (Profound Lore)
Soul Glo - Diaspora Problems (Epitaph)
Suzie Analogue - Infinite Zonez (Disciples)
Tzompantli - Tlazcaltiliztli (20 Buck Spin)
Wet Tuna - Warping All By Yourself (Three Lobed Recordings)
---
Coming soon.‌
January 1
Jason Moran - From the Dancehall to the Battlefield (Yes Records)
January 6
Beatriz Ferreyra - Senderos de luz y sombras (Recollection GRM)
Daniel Teruggi - Sphæra (Recollection GRM)
January 20
Art Ensemble of Chicago - The Sixth Decade: From Paris to Paris (RogueArt)
Fred Frith/Susana Santos Silva - Laying Demons to Rest (RogueArt)
January 27
Gordon Beeferman/Michael Evans/Michael Foster/Shelley Hirsch - GLOW (Tripticks Tapes)
Ilia Belarukov & Gabriel Ferrandini - Sculptor (Tripticks Tapes)
Polyorchard - scree/n (Tripticks Tapes)
Purple Decades - Journey Test (Beacon Sound)
February 3
Tony Conrad/Arnold Dreyblatt/Jim O'Rourke - Tonic 19-01-2001 (Black Truffle)
Chris Dingman - journeys, vol. 2 (Inner Arts Initiative)
February 10
Brad Mehldau -  Your Mother Should Know: Brad Mehldau Plays The Beatles (Nonesuch)
February 22
Erik Hall - Canto Ostinato (Simeon ten Holt) (Western Vinyl)
February 24
The Necks - Travel (Northern Spy)
March 10
Marc Ducret -  Palm Sweat: Marc Ducret Plays the Music of Tim Berne (Out of Your Head)
March 17
Gerald Cleaver, Brandon Lopez, Hprizm - In the Wilderness (Positive Elevation)
March 31
Old Saw - Sewn the Name (Lobby Art)
---
Happy New Year!